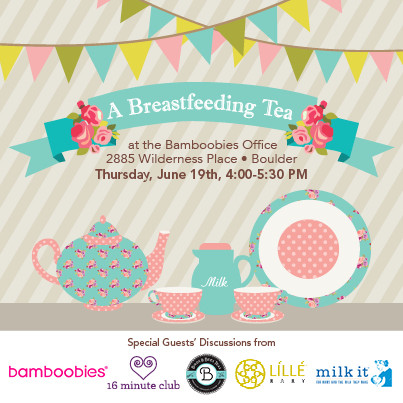 I am so excited to collaborate with some great women to host "A Breastfeeding Tea" tomorrow at the Bamboobies office here in Boulder, CO!
Special guests will be there to discuss breastfeeding tactics, triumphs and products that may improve your breastfeeding journey:
Kerry Gilmartin, Bamboobies founder, Boulder, CO http://www.buybamboobies.com
Courtney Uyeshiro, Milk It founder, Boulder, CO http://www.milkitkit.com
Jennifer Roth, Birds and Bees Teas founder, Denver, CO http://www.birdsandbeesteas.com
Kelly Warren, Lillebaby Carriers marketing director, Boulder, CO http://www.lillebaby.com
Wendy Wright, IBCLC, 16 Minute Club founder, Palo Alto, CA http://www.16minuteclub.com/
This event will be the start of a series of events collaborating with other mom-focused businesses. We will also be meeting with local Doulas, Nurse Midwives, and Lactation Consultants. Plus, you will see me at the Winter Park, CO and the Boston, CO MommyCon events and our Milk Labels will represent at all the MommyCon events throughout the year.
It will be a busy summer and we look forward to interacting with lots of great moms!
milk it, LLC creates Milk It Kit™ - the Back to Work Survival Kit for Breastfeeding Moms. Purchase the Milk It Kit™ and refill milk labels at www.milkitkit.com. Milk It™ and Milk It Kit™ are trademarks of milk it, LLC © 2012. All Rights Reserved.